As 2019 winds down, I just thought I would share some of the more interesting labels that we have printed this year. Weber prints digital labels for customers in a wide variety of markets and some of the designs are outstanding.
Our digital label presses are constantly printing cool labels for everything from start-up companies to established industries looking to improve the look of their brand. So take a look at these gems and learn about the companies they represent! We like to support all our customers, large and small.
1. Hair of the Ferret - Crown Point, IN
A former Weber label customer, Dan and Sally Homner, are those kind of people who have the ability to turn a hobby that they love into a successful business. Hair of the Ferret Gourmet Salsa is a family-owned company that takes great pride in making the best salsa and hot sauces on the planet. Fresh ingredients (up to 12 varieties of peppers!) make all the difference.
Being huge salsa lovers, Dan and Sally started making salsa for friends and family. People loved it and after many accolades, they decided to take it to market in 1997. Literally. They took it to a Farmers Market and it was such a big hit that they decided to start a full-time business making salsa.
The name is is a tongue-in-cheek suggestion from one of their friends. It's such an outrageous name that people remember it and it stuck.
In 2018 they got a price increase from their current label vendor and started looking for a new label company. They also had a new product, Fred's Red hot sauce. We provided some cool samples of different label materials that would make their brand stand out from the competitors on the store shelf.
Dan liked the idea of the metallic label material and he had our graphics department make his artwork come to life. The results speak for themselves. If you are a hot sauce collector, better get this one on your list! Available online at decent prices.
2. 903 Brewers - Sherman, TX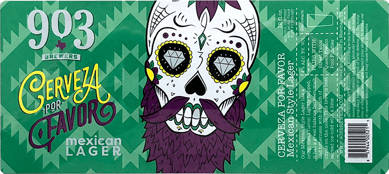 Deeply rooted in originality, high quality, and community, 903 Brewers prides itself on solely offering its best to their customers.
Their labels are in-your-face designs that get noticed right away. Bold, striking colors are their trademark. The 903 Cerveza Por Favor Mexican Lager has a crisp clean flavor. Lightly hopped, it's a great balance between malt and bitterness with a touch of citrus.Best served cold with a lime wedge! Pairs great with street tacos and pool floaties.
We love this label design, one of the many incredible masterpieces from 903, because the colors are intense with a dash of humor in the beard and mustache. Just a fun, good-looking label on a great beer.
Acting on their dream of sharing their love of creating great beer with folks who mean the most, 903 Brewers is the product of the perfectionism and persistence of founders Jeremy (also head brew boss) and Natalie Roberts.
Their award-winning beers include the Sasquatch Imperial Chocolate Milk Stout which took home the silver in the 2015 Great American Beer Festival aged beer category. Their Scotch Ale, Kilt Switch, took home a bronze in 2018.Cultivating its craft since 2013, 903 beer is noticeably crafted with impeccable care. 903 Brewers first made a name for itself with the beloved The Chosen One Coconut Ale and Roo's Red Ale. Now, with an array of year-round, seasonal, and special release beers, craft beer enthusiasts are sure to find their flavor.
3. Keepzit Kooler - Lake Lure, NC

Okay. These are cool labels.
Dave Piper was in his Jacuzzi one evening sipping a beverage that was in a boring stainless steel can cooler when he thought, "I can do better than this."
Fast-forward to the Keepzit Kooler® Company in North Carolina. Dave and Dennis Piper came up with a new design for drink coozies that are made of light-weight ABS plastic. With two insulating layers (a foam liner that can be cleaned in the dishwasher) your beverages stay cool longer and don't leave a ring.
Keepzit was having their can coolers screen-printed but ran into issues when they began private branding for Cabella's and MossyOak. Their current printer had minimums that were high, no quantity discounts, and lead times were long.
Weber worked with them for several months to get the right label materials and specifications. Notice the slight taper? This is to seamlessly follow the slight angle of the can cooler to ensure the label lays flat. These labels were printed digitally on Weber's HP6900 label presses in whatever quantity was needed.
With a wide variety of designs available, these labels are laminated with a gloss over laminate to keep them in perfect shape after long periods of use. Keepzit has labels (like the above Medusa Sugar Skull) to cover just about any interest including camp themes, lots of skulls and racing types, and even a series for the Blue Angles Navy Acrobatics Team. Check out their awesome designs!
4. Sünnte - Ogden, UT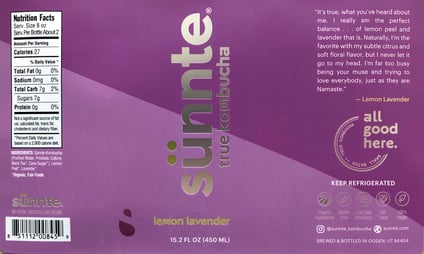 Sünnte - pronounced "soon-tea" - means healthy tea in Norwegian. And that is exactly what they make.
Starting out in 2016 with the goal of making the best kombucha, they turned an old pizza parlor into a makeshift brewery and got to work. The community embraced the new kombucha and slowly they began to make a name for themselves.
Sünnte began canning their beverages and needed some labels that would hold up against moisture, condensation and refrigeration. They were referred to Weber by a satisfied digital label customer and asked us to help. Their current labels were falling off and bleeding from moisture. Weber recommended a flexlyte silver BOPP film material for its shimmery animated look and durability. A matte over laminate gave the label a more sophisticated upscale look that was perfect for this product.
Sünnte was recently picked up by a national distributor and will be ramping up to keep up with demand. Watch for this delicious brand at your store!
5. SmokeOutCandles LLC - Waupaca, WI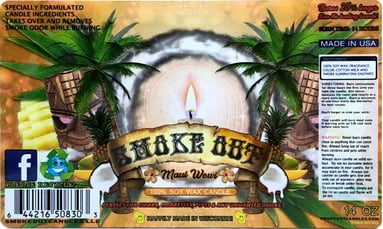 Even as a small candle company in central Wisconsin, SmokeOutCandles LLC gets great reviews for their soy wax candle products.
And the labels are killer! Available in a wide range of flavors and scents, the artwork for each candle type reflects the anticipated aroma of the candle.
If you ever lived in a house with a smoker, you know that these can help eliminate unwanted odors, especially in the many states now legalizing cannabis.
SmokeOutCandles needed small batch runs of multiple SKUs and digital printing is the only way to go. Weber came up with a plan to gang them up to make them more affordable while retaining excellent color quality and clarity.
Made in the USA, this start-up company is growing quickly and and the candles are available at an affordable price.
6. Good Vibes Kombucha - Boise, ID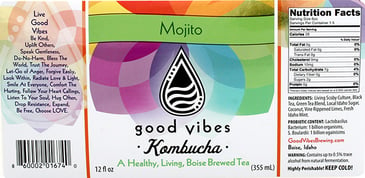 Good Vibes, provides healthy, organic and just plain delicious alternatives to your average tap beverage. Their fermented tea is brewed using ingredients sourced from the local Boise, Idaho, area in which they live.
Good Vibes is very passionate about using only fresh, local, vine-ripened, organic fruits and vegetables. We especially like the artwork and mission statement on their web site located at www.goodvibesbrewing.com.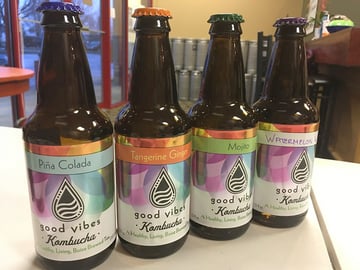 We see this label as a progression from the company's old labels. Layna from Good Vibes contacted us for help printing some labels and the first runs came out well.
But our digital label expert, Linda, suggested using a metallic film for the next batch of labels using the same design. The reflective quality brought the label to life and made it stand out from your typical kombucha label.
Right now they have three main flavors that they brew: Pina Colada, Tangerine Ginger and Mojito. A fourth label was added that has a blank flavor panel that allows the names of short or seasonal brews to be written in when bottled.
7. Rapture Farms Gummies - Weber Demo

This is a cool label that we made for our trade shows to demonstrate our Metallic Film capabilities for cannabis labels.
We had some awesome reactions to these colorfully-labeled product jars as they were rolling off the Pack Leader USA ELF-50 wrap-around label applicator at recent trade shows. Attendees like to see how our packaging equipment functions and we use our own label designs to promote certain industries.
The cannabis industry is designing more upscale, stylistic labels and packaging to enhance their brands. The labels still need to have certain amounts of warning information that varies from state to state. But with the wide-range of materials available for labels, including finishing varnishes and laminates, you can create stunning eye-catching packages for your cannabis products.
8. Batter & Company - Pompano Beach, FL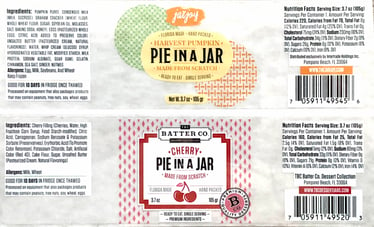 I was torn about showing this label since you can't see the final effect. That's because they are clear with white backgrounds behind the text areas.
Why?
These go on small jars of PIE! And the product colors are beautiful. So the clear labels let the product show through. They are so new that we didn't have a final product photo, but the mock-ups are dynamite.
And the pie is...just incredible.
With over 20 products and growing, Batter & Company wanted to showcase their desserts through the glass jar. Their line of Pie In A Jar products are a hot selling item, perfect for retail and grab & go outlets.
Did I mention delicious?
Started back in 2013 by Shaun & Sarah in their apartment, the company has grown by leaps and bounds by creating a series of ultra-moist cake recipes. Their success led to the food truck circuit which grew into retail store in Pompano Citi Centre. A second store quickly followed and in 2016 they opened their commercial kitchen to create a fine line of French pastries for hotel and food services. By 2018, the company was providing extraordinary desserts to grocery stores, airlines, cruise ships and hospitality sites.
Go their web site and start dreaming...
9. Wild Onion Brewing - Lake Barrington, IL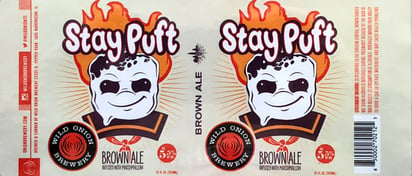 One of our favorite childhood memories was watching the Stay Puft marshmallow man destroy New York City while the Ghostbusters try to calm the spirit world down.
Wild Onion Brewery in Lake Barrington, Illinois, has somehow taken that awesome adventure and put it in a can. Read their story in our blog.
Typical of all the labels from this creative brewery, the image is clean and reflects the brown ale with a hint of marshmallow flavors. The company is using pre-printed black cans for all their brands and having the labels tell the story of the different beer selections. They are saving money by keeping the cans all the same and using small runs of digital labels to change styles.
As one of the first small breweries in Illinois, Wild Onion has been breaking new ground continuously over the years. For example, they were one of the first to produce a pumpkin ale to celebrate the Fall. And their line of Bourbon Barrel Aged Russian Imperial Stouts are simply the best.
Check them out.
So there you have it. These are just a few of the labels we have been printing on our digital HP Indigo label presses lately. As you can see, label design swings from one end of the spectrum to the other; classic photos to bizarre wildness. Breweries create their own look and tend to roll with a theme. But we love seeing and printing these amazing labels. No other market has such a diverse and creative look to their artwork. That's one of the best features of the label industry.